Volocopter Sets Sights on 2024 Olympics as Lilium Targets the Chinese Market
Fri 11th Aug, 2023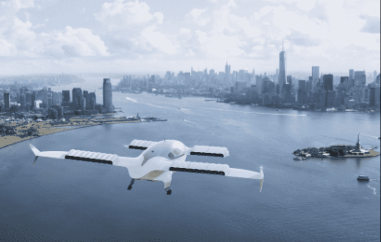 In a bold move towards the future of mobility, the aviation pioneers of the flying taxi industry are vying for investor attention at the Le Bourget aviation fair near Paris. Leading the pack is German developer Volocopter, which has set its sights on the 2024 Olympics in the French capital, aiming to become the first company in the industry to commence commercial operations. With flight demonstrations at the world's largest aviation expo, the company is already tantalizing enthusiasts with a taste of the flying taxi experience. "The Olympics are our guiding star," stated Volocopter CEO Dirk Hoke. Successfully launching in this arena could breathe new life into the sector, emboldening risk-averse investors to inject fresh capital.
However, the hurdles are substantial. As of yet, none of the numerous electric vertical takeoff and landing (eVTOL) aircraft, being developed by established aircraft manufacturers and hundreds of startups alike, have secured official flight permits. Volocopter aspires to be the first. However, numerous test flights lie ahead, accompanied by thousands of pages of documentation for the European Aviation Safety Agency (EASA). Next month, flight operations are slated to commence in Germany. "Becoming the first licensed flyer is no walk in the park," remarked Hoke.
The road ahead is fraught with challenges, exemplified by multiple delays across the industry. Several flying taxi developers have been forced to postpone their market debuts for various reasons. "We need to restore our credibility and reputation," conceded Hoke. Moreover, the constrained financial landscape is putting a strain on these firms. "Limited liquidity poses a problem for the entire industry."
Industry expert Robin Riedel from McKinsey, the consulting firm, anticipates that the entire sector will experience an upturn once the first company secures official flight clearance. Currently, investor interest is rather tepid: Many projects that went public through shell companies have witnessed value declines of 30 percent or more. Risk capital providers are favoring drone projects over flying taxis. In the first half of the year, $710 million flowed into eVTOL ventures - a drop of around $500 million compared to the previous year.
Investors are concerned that flying taxi companies will encounter greater market entry obstacles compared to firms engaged in areas like electric mobility. "They want to invest in companies that promise a clear exit point and exhibit a visible path to profitability," explained Alan Wink, an expert at US consultancy EisnerAmper, with experience in such projects.
Lilium Focuses on Chinese Market
The precise business models of these companies remain uncertain. Many of the current flying taxis accommodate only a few passengers. Market potential primarily lies in short-haul flights within densely populated Asian and South American metropolises. Lilium has set its sights on China, securing a letter of intent for 100 aircraft from a Chinese company offering helicopter services in the Guangdong-Hong Kong-Macao region. The company has a total of 745 pre-orders in its books. Capital infusion is anticipated to fund development until the first manned flight next year, after which Lilium plans to rely on down payments from potential buyers.
British engine manufacturer Rolls-Royce is also eyeing regional transportation, introducing a hybrid engine for longer distances. The turbogenerator can be powered by sustainable aviation fuel (SAF) or hydrogen, generating power for the individual motors of the flying taxi. Testing of this machine is set to begin in the coming months. "This product allows our customers to offer longer routes with electric aircraft, enabling more passengers to travel on low-emission planes," stated Olaf Otto, the manager responsible for the electric business.
US supplier Honeywell also foresees business opportunities in the sector. Thus far, orders worth approximately $7 billion have been secured, according to manager Mike Madsen. Alongside numerous startups, established aircraft manufacturers such as Airbus, Boeing, and Embraer are also developing their own electric aircraft, many of which are VTOL designs. The ultimate victor remains uncertain, as Madsen highlighted, "We will likely witness larger companies acquiring some of these firms. The best ideas will survive."


Photo copyright Lilium.com