Train Travel in Europe Often More Expensive Than Flying
Sat 22nd Jul, 2023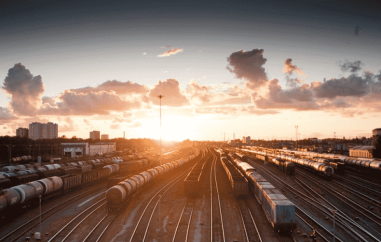 The age-old question of which mode of travel is cheaper, airplane or train, has been investigated by environmental organization Greenpeace in a study that analyzed 112 European city connections. The study included popular domestic routes within Germany, such as Hamburg-Munich and Stuttgart-Berlin, as well as longer, less frequented international routes like Cologne-Barcelona or Freiburg-Zagreb.
The study's findings showed that only a few European connections offered train fares lower than flight prices. In 71 percent of cases, train travel proved to be more expensive than air travel. For routes starting or ending in Germany, train journeys cost an average of 51 percent more than equivalent flights.
The routes where trains were consistently more affordable were Hamburg-Brussels, Hamburg-Luxembourg, and Hamburg-Munich. The largest price difference was observed on the Barcelona-London route, where train tickets could cost up to 384 euros, a staggering 30 times more than the 12.99 euros charged for a flight ticket, as stated by Greenpeace.
However, it's essential to consider that certain low-cost airlines offer online deals for the Barcelona-London route, with prices ranging from eleven to sixteen euros, depending on the travel date. Nevertheless, it's crucial to note that these budget airlines often charge extra for checked baggage. Therefore, passengers may experience a substantial price increase if they choose to check their luggage.
Greenpeace's Approach:
Greenpeace selected cities based on several criteria, including the capitals of EU member states and cities with over one million inhabitants. The organization also considered tourist hotspots and routes with a high frequency of bookings. Additionally, some overnight train connections were examined.
The maximum train journey time for the selected routes was set at 24 hours. Greenpeace acknowledged that this value was relatively high and that few travelers would be willing to accept such a long travel time.
Notably, even some longer-distance routes could be completed by train. For example, the Barcelona-London route takes approximately ten hours, with a single change in Paris. Both London and Barcelona are well-connected to Paris via high-speed trains, traveling at speeds of up to 300 kilometers per hour.
The German railway company Deutsche Bahn (DB) responded to the study, stating that "on top connections within Germany, train travel is generally cheaper than flying." Tickets for these routes are available from as low as 17.90 euros. However, consumer advocates emphasize that the availability of these low-cost tickets is limited and may require booking well in advance, especially on busy travel days like Fridays or Sundays. The DB spokesperson also mentioned that discounted fares (Sparpreise) are available for international connections to neighboring countries like France and Italy.
Moreover, the DB emphasized the cost-effectiveness of train travel when it comes to taking children or baggage along. Additionally, trains usually arrive in the heart of the city, eliminating additional costs for transportation from the airport to the city center.
Greenpeace Calls for Kerosene Taxation:
One of the primary reasons for trains often being more expensive for cross-border travel is the presence of budget airlines. Almost 80 percent of the routes studied were served by low-cost carriers. These airlines benefit from the absence of excise tax on aviation fuel (kerosene) and the exemption of Value Added Tax (VAT) on flight tickets. Furthermore, regional governments in several countries have granted generous subsidies to airlines like Ryanair, allowing them to use remote and underutilized airports such as Frankfurt-Hahn or Barcelona-Girona.
To address these disparities, Greenpeace calls for a kerosene tax of 50 cents per liter, with the revenue being invested in railway infrastructure and subsidized train tickets.
"Increasingly, people want to travel by train and avoid flying, but the lack of kerosene tax and other environmentally harmful subsidies for the aviation industry distort prices and undermine good intentions," says Marisa Reiserer, Greenpeace transport expert.
Detlef Neuß from the passenger association Pro Bahn also advocates for the end of the tax disadvantage for train travel. If air travel and trains were taxed fairly and based on their CO? emissions, the train would be "unbeatably affordable," according to Neuß.
Furthermore, Neuß emphasizes the need for a booking system that simplifies the purchase of cross-border train tickets and ensures passenger rights. Some travelers currently resort to purchasing separate tickets for different legs of their journey, resulting in the loss of through-ticket passenger rights in case of delays or missed connections.
While train travel's environmental advantages and potential cost-effectiveness are apparent, addressing the disparities between trains and planes in terms of taxation and subsidies remains crucial for achieving a sustainable and climate-friendly transportation system.