The Myth of Spain, Ignacio Zuloaga - exhbition by Kunsthalle München
Thu 31st Aug, 2023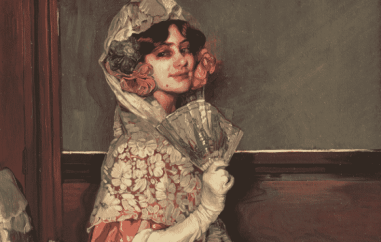 The Kunsthalle München proudly presents an expansive retrospective of the works of Spanish painter Ignacio Zuloaga, marking the first comprehensive exhibition of his art in Germany. Featuring an impressive collection of approximately ninety pieces, Zuloaga's remarkable oeuvre comes to life. His creative impact on Spain's international image around 1900 was unparalleled, capturing the essence of the country through a diverse range of subjects: toreros and passionate flamenco dancers, beggars, mystical figures, and enigmatic witches evoking the spirit of renowned artists Diego Velázquez and Francisco de Goya. Additionally, Zuloaga portrayed ascetics and penitents against vast, sun-soaked landscapes, along with scenes of rustic rural life. As Spain underwent industrialization and embraced European Modernism, Zuloaga ardently aimed to safeguard the essence of the "Spanish soul" in his art, earning him significant global recognition.
Zuloaga's art struck a harmonious chord with the German public during this period. His depictions combined an authentic portrayal of Spain as perceived at that time with the mythical, exotic allure that German Romantics had envisioned in the early 19th century. The eminent Spanish philosopher José Ortega y Gasset (1883-1955) acknowledged Zuloaga's prowess in myth-making, highlighting his ability to conjure imaginative narratives. The artist held numerous exhibitions in Germany between 1900 and 1914, garnering attention from museums, private collectors, writers, and fellow artists such as Rainer Maria Rilke (1875-1926), Paul Klee (1879-1940), and August Macke (1887-1914). In 1912/13, Munich hosted a significant exhibition featuring twenty-five of his masterpieces.
However, Zuloaga's perspective on his homeland sparked intense debates and criticism within Spain. Many of his compatriots viewed his personal interpretation as unpatriotic, especially against the backdrop of Spain's profound crisis following its defeat in the war against the United States in 1898, which resulted in the loss of crucial overseas colonies. Zuloaga's paintings became entwined with political discourse, delving into the crucial question of Spanish identity: the tension between tradition and modernity, and the choice between a insular focus or a more outward-looking European approach.
Organized into ten thematic chapters, the exhibition delves deep into Zuloaga's artistic journey and situates it within the socio-cultural context of his era. It explores his association with the Generation of '98 literary movement, Spain's self-perception both internally and among foreign countries in Europe, and his ties to the avant-garde scene in Paris. The presentation also delves into his reception in Germany, while exploring the intricate relationship he maintained with the Francoist administration and his complex instrumentalization by the fascist regime.
Departing from the conventional, narrowly defined categorization of Zuloaga as the painter of a melancholic and somber "black" Spain, the exhibition seeks to reevaluate his body of work in all its multidimensional complexity. With this endeavor, Kunsthalle München continues its tradition of Spanish-themed exhibitions, building on previous successes like "Spain's Golden Age" and "Joaquín Sorolla," presented in 2016/17.
The first chapter delves into Zuloaga's early artistic development and formative years in Paris. In the late 1880s or early 1890s, Zuloaga, hailing from a respected Basque artisan family, relocated to the thriving art hub of Paris. Inspired by the innovative techniques of Edgar Degas, the monochromatic compositions of James McNeill Whistler, and the delicate portrayals by fellow Spaniard Ramon Casas, Zuloaga produced scenes of café life, street corners, and his initial portraiture influenced by Naturalism. Paris became a recurrent theme in Zuloaga's life, a city he revisited time and again. Beyond his association with bohemian circles, he mingled with cosmopolitan high society and counted luminaries like Auguste Rodin, Henri de Toulouse-Lautrec, and Maurice Ravel as friends. However, he also intentionally engaged with the working class in Spain. Zuloaga's wide-ranging travels and enduring connection with Paris furnished him with a fresh perspective on his homeland.
Like his contemporaries, Zuloaga perceived the intrinsic identity of his nation as threatened by the advancing tide of progress and Europeanization. He was committed to capturing this identity in his artwork, imbuing it with a sense of mythic elevation. The second chapter of the exhibition delves into Zuloaga's fascination with the masterworks of the Golden Age, particularly the influence of El Greco, Diego Velázquez, and Francisco de Goya. These masters played a pivotal role in his quest to distill the essence of Spanishness. With a modern lens that remained respectful and melancholic, Zuloaga elevated marginalized figures like beggars and ordinary individuals to the forefront of his compositions.
The third chapter spotlights the theme of prostitution, a recurring motif in the art of the early 20th century. Zuloaga's pieces intermingle scenes from the streets of Paris with interiors inhabited by Spanish demimonde figures. His portrayals of various forms of female allure, ranging from flirtatious cousins to the nude figure in "Celestina" (Matchmaker), embody a deliberate ambivalence where modest allure and disreputable seduction intertwine.
Chapters four and five closely associate with Zuloaga's Seville period (circa 1894-1898), exploring works influenced by folklore that center around bullfighting and flamenco dancing. These motifs are intricately connected to the Gitanos, Spain's Roma community, with whom Zuloaga maintained profound connections. The realm of toreros, where the artist himself delved into bullfighting, stood in stark contrast to the elegance of Parisian society. While bullfighting externally represented a core aspect of Spain's "barbaric" identity, Zuloaga intentionally steered away from the spectacle of violence, instead focusing on individual toreros and the rituals associated with bullfighting.
Zuloaga's depictions of dancers and Gitanas established a distinct archetype: the exotic Andalusian woman, possibly influenced by the famed character of Carmen. His representations of the Roma community broke free from stereotypical portrayals. In 1898, Zuloaga's move to Segovia marked a crucial juncture in his artistic career. The sixth chapter of the exhibition delves into his renditions of the stark, rugged landscape and its "archetypal" inhabitants. These works, often interpreted as symbols of a dark Spain, were crafted in Segovia and its environs. Zuloaga's paintings significantly contributed to the dissemination of the "Castilian myth," elevating Castile to a national landscape that embodied authenticity and the spirit of the people. A significant portion of Zuloaga's Segovian collection also consists of portraits of his cousins, who epitomized an authentic Spanish sensuality and a casual, unassuming femininity.
Zuloaga's association with prominent figures in the music, dance, and theater realms, highlighted in the seventh chapter, is underscored by his collaboration with composer Manuel de Falla for the opera "Master Peter's Puppet Show" (1923). This opera's libretto is inspired by Miguel de Cervantes's "Don Quixote." Zuloaga contributed stage design and plasterboard half-dolls for the singers.
The eighth chapter brings Zuloaga's religious compositions into focus, often capturing the expressions of Spanish popular piety. Grounded in the traditions of mystical Catholicism that persists to this day in annual Easter processions, these pieces showcased abroad as intriguing facets of Spain's cultural heritage. Zuloaga's unique approach is exemplified by paintings like "The Cardinal," which subtly alludes to the Inquisition and features a high-ranking subject portrayed by an ordinary worker.
The final two rooms of the exhibition spotlight Zuloaga's portraiture, including commissioned works and intimate depictions of friends and colleagues. This section also examines the interplay between portraits and landscapes. Autonomously depicted natural scenes juxtapose expansive, desolate landscapes with mythic locales like Toledo or Ávila. Zuloaga's "landscape portraits" become a focal point, marked by a distinct visual language that ingeniously combines figures with symbolically charged landscapes against dramatic skies. Rather than pursuing naturalistic replication, these compositions deliberately emphasize the disjunction between the two elements through various light effects. A staunch Anti-Impressionist, Zuloaga sought to capture enduring qualities rather than fleeting moments. In this approach, the landscape acts as an "extension" of the figure, a conduit for projecting their inner essence.
This synthesis of the private and the public, the figurative and the environmental, concludes the narrative of an oeuvre that mirrors the complexity of an artist amidst a tumultuous world. Zuloaga's identity is multi-faceted: a bourgeois bohemian, a modern cosmopolitan, and a romantic Castilian, he straddles diverse roles. He represents both the bright, celebratory Spain and its somber, tragic aspects; he stands apart from politics yet remains profoundly engaged; his works are both critiqued and revered. Together, these layers encapsulate the enduring myth of Spain.
"The Myth of Spain: Ignacio Zuloaga (1870-1945)" is a collaborative exhibition between Kunsthalle München and Bucerius Kunst Forum, Hamburg. The exhibition will be open for viewing in Hamburg from February 17 to May 26, 2024.
Drawing in approximately 350,000 visitors annually, the Kunsthalle München is a premier exhibition venue in Germany. Located in the heart of Munich, its expansive 1,200 m² exhibition space showcases diverse art genres, including painting, sculpture, graphic art, photography, crafts, design, and fashion. Equipped with cutting-edge museum technology, the Kunsthalle München presents three major exhibitions each year, encompassing both monographic showcases and thematic projects, often embracing interdisciplinary concepts.


Ignacio Zuloaga The one with the fan, 1906 Oil on canvas, 115 à 100 cm Sammlung Casacuberta Marsans Photo: Gasull Fotografía, Barcelona