Oktoberfest 2023 reservations almost fully booked
Tue 11th Jul, 2023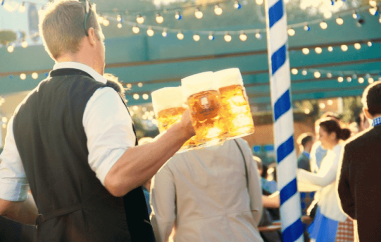 The 2023 world famous Oktoberfest (locally referred to as the Wiesn) begins on September 16th and lasts until October 3rd. For the first time this year, the hosts want to enable guests to exchange or sell unused reservations on an online portal at the original price. Already reservations are filling up quickly. For years the organisers have been fighting against gray market sales, sometimes several thousand euros are charged for a table on the relevant portals. The hosts, on the other hand, only require the purchase of food and drink vouchers and a booking processing fee. The city council's push for free drinking water at the Oktoberfest is a good suggestion for the Oktoberfest visitors, but does not affect business in the beer tents.
"People here mainly drink beer. The water is only a marginal part of the turnover." Last week, in view of the rising prices, city council factions applied for free drinking water stations to be set up. The average price for a liter of table water in the Wiesn beer tents is over 10 euros, compared to 9.67 euros last year. The average beer costs 14.18 euros. 
Festival manager Clemens Baumgärtner (CSU) has announced an "XXL Oktoberfest": The festival lasts 18 days, two days longer than usual. Because the public holiday October 3rd falls on the Tuesday after the usual Oktoberfest end, the city council granted the extension. The first Wiesn after the pandemic attracted around 5.7 million visitors last year, a good half a million fewer than in 2019 before the pandemic.