Oktoberfest 2023: Celebrating Tradition and Innovation
Fri 4th Aug, 2023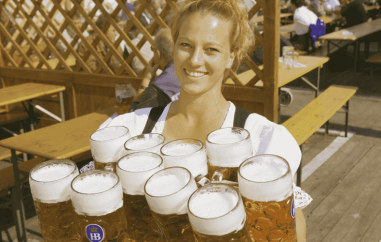 From September 16th to October 3rd, the iconic Theresienwiese in Munich will transform into the world's largest folk festival. The 188th Oktoberfest promises a grand celebration spanning 18 days this year. The festivities will kick off with the traditional tapping of the first keg by Munich's Mayor, Dieter Reiter, on September 16th at 12:00 PM in the Schottenhamel Festzelt.
The Festival Grounds
Covering an impressive area of 34.5 hectares, the festival grounds will be alive with vibrant energy during the Oktoberfest 2023. A total of 898 establishments applied to participate in this year's event. Of these, 474 businesses were granted permission to operate, including 140 gastronomic outlets, 138 amusement rides, 196 market merchants, and several service providers. On the Oidn Wiesn, a dedicated traditional section of the festival, 39 establishments will offer their services, comprising 14 gastronomic venues, 23 amusement rides, and two market merchants.
A World of Festive Beer and Culinary Delights
Within the 17 grand festival tents boasting around 120,000 seats, the unique Oktoberfest beers from the six traditional Munich breweries - Augustiner, Hacker-Pschorr, Löwenbräu, Paulaner, Spaten, and Staatliches Hofbräuhaus - will be poured with a malt content of approximately 13 percent.
The culinary options will be as diverse as the festive atmosphere, ranging from traditional delights to vegan offerings. With a total of 39 gastronomic establishments, the festival will cater to every palate. The price of a one-liter stein of Oktoberfest beer will range from EUR12.60 to EUR14.90. On average, non-alcoholic beverages will be priced at EUR10.04 per liter for still water, EUR11.65 for a Spezi (a popular German soft drink), and EUR11.17 for lemonade.
Innovations for Oktoberfest 2023
Each year, the Oktoberfest brings new innovations. While there won't be new tents or landlords this year, exciting changes are in place. For the first time, online platforms will allow unused reservations to be exchanged or sold at their original price, curbing the gray market where tables were often resold for exorbitant prices. Around 20 gastronomic establishments have already chosen the Oktoberfest-Booking.com portal as a solution for this.
Another significant change is the removal of mandatory menus when reserving tables in the festival tents. Reservations should not be tied to menu selections. Typically, in the main tents, a minimum consumption of two liters of beer and half a roasted chicken is expected, while boxes and galleries will include a EUR15 consumption voucher. Specific rules apply to Käfer-Wiesn-Schänke and the Weinzelt.
To enhance guest services, three information points will be set up at crucial locations on the festival grounds - near the main entrance, along the amusement street, and on Matthias-Pschorr-Straße. These points will also offer official Oktoberfest souvenirs like the Wiesnkrug (beer stein), Wiesnplakat (poster), and pins for purchase. For those eager to prepare ahead, these items can be acquired from the official Oktoberfest shop online at www.oktoberfest-shop.eu.
An innovative rule ensures that the Munich Oktoberfest remains open to ride and entertainment innovation. This approach maintains a harmonious balance between tradition and modernity.
In 2023, visitors can anticipate a new ride and two novel walk-through attractions:
1. "Mr. Gravity" High-Ride:Â Ten gondolas accommodating two persons each rotate on a disc mounted to a bi-directional, rotating arm. The arm can extend up to 20 meters in height, almost reaching a vertical position. Speeds of up to 100 kilometers per hour are achieved during the ride (Schausteller Str. No. 42).
2. "Crazy Outback" Walk-Through:Â Across its two levels, this attraction features a Koala car wash and a Kangaroo boxing school, among other exciting discoveries. A labyrinth, shaky stairs, passages with vibrating floors, light shows, and more make this attraction an adventure for the entire family. Children above seven years can embark on the journey unaccompanied. For younger children, a Kids Guide is provided for a tour through the Crazy Outback (Str. 4 No. 18).
3. "Crazy Island" Adventure Walk-Through:Â This experience whisks guests away to the Caribbean, featuring Germany's largest five-story adventure walk-through. With over 50 obstacles to conquer, the attraction includes a 290-square-meter water basin, a 10-meter waterfall under an LED multi-screen wall, four-dimensional effects, and a suspension bridge between levels. Children as young as two years old can participate, accompanied by an adult free of charge (Str. 3 East No. 7).
New Culinary Delights: "Münchner Weinstub'n"
The culinary offerings welcome a newcomer: the "Münchner Weinstub'n." This standing beverage service is constructed from real wood, exuding a cozy alpine hut ambiance. The menu features a range of wines awarded the "Bio-Bayern" (Organic Bavaria) seal (Str. 3 East No. 9).
Anniversaries to Celebrate
Five anniversaries will be celebrated at Oktoberfest 2023: 99 years of Krinoline, 50 years of Käfer Schänke, 40 years of Scherzfotografie Christopher Doherty (Oide Wiesn), 20 years of Aktion Sichere Wiesn, and the 15,000th beheading at Schichtl's.
Guided Tours of the Construction Site at Theresienwiese
Munich Tourism is offering guided tours of the construction site on weekends, exclusively on Saturdays and Sundays at 9:30 AM and 12:00 PM.


Photo: Bedienung auf dem Muenchner Oktoberfest, © Muenchen Tourismus, J. Wildgruber