Oceano - poet Privitera's intimate contemplation
Thu 15th Jun, 2023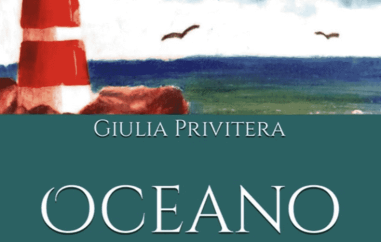 A young author faces the horizons of poetry with enthusiasm and passion.
Giulia Privitera, who has been navigating the world of prose since the age of eight, cultivating her talent and passion for verse texts, has come to realise her dream of seeing her own 'creatures' published. After "Fuori emana luce" from Placebook Publishing comes Oceano, her collection of poems published with the publishing house Il Giardino della Cultura in 2023.
If in the first work, the author's feelings remain somewhat reserved, manifesting only inwardly as unexpressed desires, in Oceano she reveals herself by laying bare all the feelings and thoughts that creep and gallop through her mind. As she tells her story without filters in what becomes almost a self-analysis session in the guise of rhyme and verse, readers in turn discover a fascinating, magnetic writer with the singular ability to enchant.
We thus discover the poet's ability to deal with universal themes with which everyone can identify with extreme sensitivity and delicacy.
Falling in love, receiving a crushing disappointment, walking away from a stormy relationship, letting go of anger and resentment, but also being reborn from one's ashes like a phoenix and regaining possession of one's life, overcoming anger, a sense of loneliness and the excruciating pain resulting from a separation: Oceano is all this.
It is a collection that passes through suffering and anguish to arrive at the renewed awareness of being able to move on and forgive, it is a form of sentimental and personal redemption, it is the story of the ups and downs of Giulia and of anyone who feels the need to look inside themselves, reinvent themselves and take back the reins of their lives to love themselves again.
Oceano can be purchased here.  Please note the German version will be published in the near future.
 
About Giulia Privitera
Giulia Privitera was born in Biancavilla, a town in the province of Catania, on 29 September 2000.
She began to be passionate about the world of writing at the age of eight after having, in third grade, her first lesson focused on poetry.
She lived in Sicily until 2017, when she emigrated with her family to Baden-Württemberg, Germany, where she continued her artistic journey.
Visit Giulia Privitera's Instagram and Facebook
 
Copyright Giulia Privitera