Lufthansa and HCS Group Aim for Production of Sustainable Aviation Fuel (SAF)
Fri 4th Aug, 2023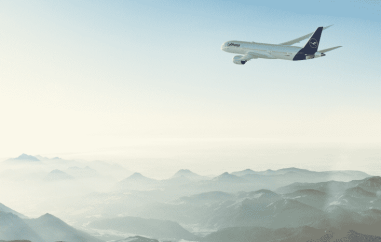 The Lufthansa Group, a leading airline conglomerate, has taken a significant step towards advancing its sustainability strategy by signing a letter of intent with the HCS Group, a chemical company. This collaboration aims to produce and supply Sustainable Aviation Fuel (SAF) that adheres to stringent environmental criteria. The agreement seeks to contribute to the decarbonization of the aviation industry by utilizing SAF, a crucial technological key for more sustainable flying.
The Lufthansa Group's commitment to SAF as a cornerstone of its sustainability strategy is underscored by this partnership. Beginning in early 2026, the HCS Group, through its subsidiary Haltermann Carless, plans to produce SAF using the Alcohol-to-Jet (AtJ) process from biogenic residues sourced from agriculture and forestry. The production facility, located in Speyer, near Lufthansa Group's Frankfurt hub, is projected to start with an annual capacity of 60,000 tons.
By collaborating with the HCS Group, the Lufthansa Group aims to support the production of SAF "Made in Germany" that aligns with the European Renewable Energy Directive RED II. SAF produced from biogenic sources is a crucial element for achieving more sustainable aviation and driving the airline's carbon-neutrality objectives.
Currently ranking among the top five global SAF customers, the Lufthansa Group's commitment to SAF is substantial. The company plans to invest up to $250 million in SAF procurement over the next few years. Moreover, the group is engaged in various projects worldwide to enhance SAF availability and explore long-term supply agreements.
Sustainable Aviation Fuel (SAF) represents a category of aviation fuels that are produced without relying on fossil fuels such as crude oil. The production methods encompass both biogenic and non-biogenic sources. The SAF produced from biogenic residues, such as used cooking oil, serves as a "drop-in" solution, being blended with conventional kerosene before being transported to airports. The current maximum permissible blend of SAF in aviation fuel stands at 50 percent, significantly reducing CO2 emissions compared to conventional kerosene. SAF derived purely from biogenic sources can reduce emissions by up to 80 percent.
The Lufthansa Group has long been involved in SAF research, establishing a broad network of partners and driving the development of next-generation sustainable aviation fuels. The group is particularly focused on SAF sourced from waste materials, renewable electric power (Power-to-Liquid, PtL), and direct solar-to-fuel synthesis (Sun-to-Liquid, StL).
Driven by ambitious climate goals, the Lufthansa Group is determined to achieve carbon neutrality by 2050. The company aims to cut its net CO2 emissions by half compared to 2019 by 2030 through various reduction and offset measures. This 2030 reduction goal has been validated by the independent Science Based Targets Initiative (SBTi). The Lufthansa Group was the first airline group in Europe to establish scientifically grounded CO2 reduction targets in line with the 2015 Paris Agreement. Its comprehensive approach to sustainability includes fleet modernization, operational optimization, sustainable aviation fuel adoption, and efforts to make air travel more eco-friendly for both leisure and corporate travelers. Additionally, the group has long been a supporter of global climate and weather research.


Image copyright Lufthansa