Kiev gets new weapons and billions from Washington
Tue 9th Aug, 2022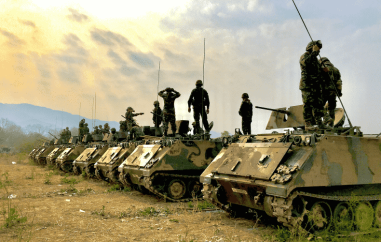 Ammunition, weapons and equipment for Ukraine - the U.S. is putting together the largest-ever package of military aid for the Russia-attacked country at a cost of $1 billion (about 980 million euros). It is intended to meet critical security needs in Ukraine's defense, U.S. President Joe Biden said in Washington. Meanwhile, Ukrainian leader Volodymyr Zelensky called for an international travel ban on all Russians. This threat, he said, was intended to stop Russia from annexing occupied Ukrainian territories.
The situation in Europe's largest nuclear power plant, Zaporizhia, is causing concern. It is occupied by Russian troops and has been hit by rockets several times in the past few days. The warring parties blame each other. Zelensky accused Russia of "nuclear terrorism".
The German Federal Office for Radiation Protection (BfS) said there was still no evidence of radioactivity being released. Similar comments were made by the White House in Washington. But the fear of possible damage is growing. UN Secretary General António Guterres warned, "Any attack on a nuclear power plant is a suicidal matter." Ukraine is demanding that a mission from the International Atomic Energy Agency (IAEA) urgently visit the plant.
"The most important sanctions are to close the borders, because the Russians are taking away others' land," Zelensky told the U.S. newspaper Washington Post. Russians should "live in their own world until they change their philosophy," he said. He was responding to the announcement by the occupation authorities in the southern Ukrainian region of Zaporizhzhya that they would hold a referendum on joining Russia. Similar plans exist for the occupied Kherson region.
There is a discussion in the EU to make it more difficult to issue tourist visas to Russians or to stop it altogether. Even though travel has been hampered by cut air and rail connections, many Russians traveled to the EU this summer despite the war. Russia's neighbor Latvia has already tightened visa requirements. Finland is considering this, but is calling for a solution for the entire Schengen area. It is not fair that Russia is waging a brutal war, but Russians can visit Europe normally as tourists, said Prime Minister Sanna Marin.
According to the Pentagon, the new U.S. arms package for Kiev includes additional ammunition for the HIMARS and NASAMS missile launcher systems and 1,000 Javelin anti-tank missiles. In addition, there are 50 armored medical treatment vehicles and medical supplies, including first aid kits, bandages or monitors. The equipment is to be given directly to Ukraine exclusively from the stocks of the Ministry of Defense.
In total, the U.S. has now pledged around $9.8 billion worth of weapons and equipment to Ukraine with the new package since U.S. President Biden's administration took office a good year and a half ago. For current expenditures of the Ukrainian state, the U.S. is also providing $4.5 billion, according to the U.S. Agency for International Development.
The U.S. Defense Department estimates that 70,000 to 80,000 Russian troops have been killed or injured so far in the Ukraine war. This was said by the Pentagon's top official Colin Kahl. There are no current casualty figures from officials in Russia. Kahl went on to say that Russian President Vladimir Putin has not achieved any of his goals. "His overarching goal was to overrun the entire country, bring about regime change in Kiev, and wipe out Ukraine as an independent, sovereign, and democratic nation. None of that has happened."
Several foreign ships with grain on board have been able to leave Ukrainian Black Sea ports in recent days. However, the first freighter, the "Razoni," was diverted from its destination port of Tripoli in Lebanon to Turkey and was anchored off the Turkish coast early Tuesday morning, according to the Marine Traffic information service. In Lebanon, the buyer had refused to accept the corn cargo, which had been delayed since the outbreak of war, Ukrainian media reported, citing diplomats.
Federal Development Minister Svenja Schulze (SPD) warned against too much euphoria after the first shipments. "Grain prices have fallen slightly, but they are still at a high level," she told the "Rheinische Post" and the "General-Anzeiger." But she added that one could not be sure that Putin would not "continue to use grain as a weapon." The war had blocked Ukrainian ports since February. In July, the UN and Turkey brokered an agreement on safe exports of the important producer.
The European gas contingency plan to prepare for a possible halt in Russian natural gas supplies goes into effect this Tuesday. The plan calls for all EU countries to voluntarily cut their gas consumption by 15 percent from the beginning of August until March next year, compared to the average consumption of the past five years during that period. Against the backdrop of the Ukraine war, Russia has already drastically reduced its supplies to the EU.


Photo by Chuanchai Pundej