Flix updates 2023 summer timetable
Wed 5th Jul, 2023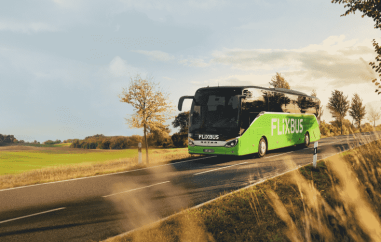 Flix announces the summer timetable for FlixBus and FlixTrain. The company is presenting the largest FlixBus network in the company's history in Europe this year.
For the DACH region, there are now many new destinations in the German holiday regions at FlixBus, and in midsummer there are also more than 1,000 trips a day to and from Germany, Austria and Switzerland with the green long-distance buses. FlixTrain travels to a total of 53 destinations throughout Germany in the summer months.
"We want as many people as possible to travel with Flix this summer. For this reason we offer our largest European FlixBus network ever. Mobility at affordable prices must be accessible to everyone," says André Schwämmlein, co-founder and CEO of Flix.
 
Off on vacation with FlixBus
With a total of 277 destinations in Germany, Austria and Switzerland, FlixBus is again offering people throughout the DACH region a sustainable travel alternative this summer - and with a significantly expanded range.
The new travel destinations with FlixBus include several places on the Baltic Sea and on the Darß, on the Müritz, in the Allgäu and in the Harz Mountains, as well as cities such as Aschersleben, Blankenburg, Clausthal, Freudenstadt, Füssen with Neuschwanstein Castle, Nordhausen, Quedlinburg and Remscheid. There are around 560 new connections in total. Tickets can be booked from EUR 4.99.
 
On a tour of Germany in the FlixTrain
In the summer of 2023, FlixTrain will also provide travelers from all over Germany with a wide range of services: a total of 53 stops are part of the green train network. From midsummer, another train will be used on the Berlin - Hamburg route, allowing passengers to travel back and forth between the major cities up to three times a day. Furthermore, FlixTrain is the only train provider to offer a free seat guarantee for all passengers. Tickets can also be booked with FlixTrain from EUR 4.99.
 
Traveling throughout Europe, in the USA or in Brazil
The highlights of the new connections with FlixBus in Europe from and to Germany include popular travel routes such as Berlin - Bruges, Berlin - Rügen or Düsseldorf - London, Cologne - Florence and Freiburg - Zagreb.
A tour of Europe or in the USA from the west coast to the east coast: passengers can book their trips to their summer vacation with Flix and travel with Flix in 40 countries around the world. By integrating Greyhound's booking sites and technology with Flix technology, passengers will be able to find a comprehensive and combined long-distance bus offer on the websites and apps of both brands, making it even easier to plan and book their trips this summer - whether it's in the USA, to Brazil or through Europe.
 
Content translated from Flix's German site


Copyright Flix