Energy generation emits more carbon dioxide than ever before
Sun 5th Mar, 2023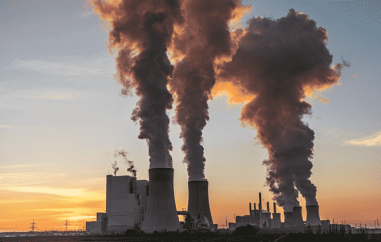 The International Energy Agency (IEA) is calling for more speed in the energy transition as global carbon dioxide emissions from power generation remain at record levels. Global energy-related CO? emissions rose 0.9 percent, or 321 million metric tons, in 2022, reaching a peak of more than 36.8 billion metric tons, the IEA said Thursday in Paris. Increased action on the clean energy transition is needed to meet climate and energy targets, it said. In 2021, the increase in CO? emissions worldwide had still been six percent.
"The impact of the energy crisis has not led to the sharp increase in global emissions initially feared, thanks to outstanding growth in renewables, electric vehicles, heat pumps and energy-efficient technologies," IEA Director Fatih Birol said. Without clean energy, the increase in CO? emissions would have been nearly three times higher. "However, we are still seeing an increase in emissions from fossil fuels, which is hampering efforts to meet global climate goals."
International and national fossil fuel companies were making record sales and needed to take their share of responsibility - in line with their promises to meet climate targets, the IEA chief urged. "It is critical that they review their strategies to ensure they are aligned with meaningful emissions reductions."
Ahead of the Fridays for Future global climate strike this Friday, activist Luisa Neubauer accused the governing coalition of SPD, Greens and FDP of being too hesitant on climate protection. "Instead of a progress coalition, we are currently experiencing a standstill coalition," she said in the podcast "Stand der Dinge." Neubauer also sees Chancellor Olaf Scholz (SPD) as having a duty: "We're still waiting for the chancellor to put his foot down on the climate crisis, to really get going." So little is happening right now, he says, and so much is being blocked. That is fatal. Throughout Germany, Fridays for Future is planning more than 230 actions, in a good 40 cities also together with Verdi. The union has called for warning strikes on that day.
For Germany, Fridays for Future is calling for, among other things, a coal phase-out by 2030, 100 percent renewable energy supply by 2035, as well as an immediate end to subsidies for fossil fuels and a halt to the expansion of highways.
CO? emissions from coal rose 1.6 percent last year, according to IEA data, as the global energy crisis in Asia and, to a lesser extent, Europe triggered a switch from gas to coal. Natural gas emissions fell 1.6 percent, it said, as supplies tightened following Russia's invasion of Ukraine and European companies and citizens scrambled to reduce their gas consumption.
According to the report, CO? emissions from oil rose even more than those from coal, by 2.5 percent. However, they still remained below pre-pandemic levels. According to the IEA, around half of the year-on-year increase in oil emissions was attributable to air traffic, which continued to recover from the pandemic.
In China, carbon dioxide emissions were largely unchanged in 2022 as stringent Covid 19 measures and a decline in construction activity led to weaker economic growth and fewer emissions from industry and transport. In the EU, emissions fell 2.5 percent as record renewable energy use helped keep coal consumption from being as high as observers had expected, he said. A mild start to the European winter and energy-saving measures in response to the Russian invasion also contributed, he said.
In the United States, emissions increased 0.8 percent as building energy use rose due to extreme temperatures, he said. Excluding China, emissions in emerging and developing Asia increased 4.2 percent, reflecting rapid economic growth and higher energy demand, according to the IEA.


Image by Catazul