Disruption at several airports due to warning strikes
Tue 14th Mar, 2023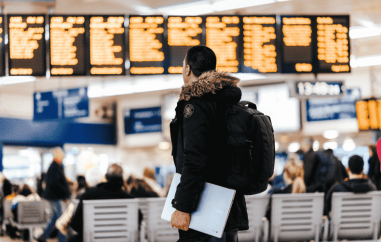 Airline passengers must once again prepare for considerable delays and cancellations at several airports in Germany on Monday. At the airports in Hamburg, Hanover and at the capital airport Berlin Brandenburg BER began in the evening and at night all-day warning strikes. This was confirmed by spokesmen for the Verdi trade union to the German Press Agency. Employees at Bremen Airport have also been called on to lay down their work. The warning strikes are also likely to have an impact on other sites. Airports advised travelers to check with their airline on flight status.
The background to the strike is, on the one hand, collective bargaining for public sector employees at the federal and local levels, local negotiations for ground handling employees and, on the other hand, the nationwide shell collective bargaining for aviation security employees. The union is demanding a 10.5 percent wage increase, or at least 500 euros more per month, for the approximately 2.5 million federal and local public sector employees nationwide. The employers' side has so far offered five percent more pay in two steps and one-off payments of 2,500 euros. The third round of negotiations is scheduled for March 27-29 in Potsdam.
At Berlin's BER alone, around 200 departures have been canceled for Monday. According to the airport, about 27,000 passengers are affected. The airport assumed that about a third of the approximately 200 planned landings would also be canceled, as a spokesman said on Sunday.
At Hamburg airport, the warning strike already began on Sunday evening. "The strike started on time," Verdi union secretary Lars Stubbe told the German Press Agency. According to the airport, all 123 originally scheduled takeoffs have been canceled for Monday, as well as at least 50 of the 121 originally scheduled landings. The warning strike is expected to affect tens of thousands of air travelers in the middle of Hamburg's spring break. Landings will be possible on Monday. However, due to the strike, flight cancellations and significant delays are also expected for arrivals throughout the day.
In Hanover, ground handling employees had stopped work at 9 p.m. on Sunday evening. The warning strike by aviation security staff began at midnight and is expected to last exactly 24 hours. "Participation is high, people are motivated," union secretary Lars Kalkbrenner told German Press Agency. Originally, 35 departures and 34 arrivals were planned in Hanover. Verdi had announced that probably none of the flights could be carried out. According to the airport operator, at least emergency and rescue flights should be possible in Hanover.
The warning strikes at the airports could be the prelude to further work stoppages in other areas of the transport sector as well. For example, the rail and transport union EVG is currently in negotiations with Deutsche Bahn and 50 other rail companies on new collective agreements. It will have met at least once with each of these companies by March 23. Then a balance will be taken and a decision will be made on further measures, an EVG spokesman had said over the weekend. Bild am Sonntag had previously reported that EVG and Verdi were already planning a joint warning strike for March 27, during which the transport sector would be paralyzed.


Photo by Anete LusiÅa