CO2 now stored in the Danish North Sea
Mon 27th Mar, 2023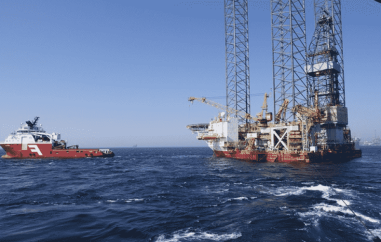 Under the Danish seabed, CO2 from Belgium has been stored at a depth of 1800 meters for a few weeks. It works like this: In a chemical plant in Antwerp, the carbon dioxide produced during production is captured, liquefied, loaded onto a ship tanker and brought to Denmark. There it is pumped deep underground and injected into the sandstone layers of the depleted Nini oil field. This huge CO2 storage facility was built by a consortium led by the British chemical company Ineos and the BASF subsidiary Wintershall Dea, with strong support from the Danish government. Up to 1.5 million metric tons of CO2 per year are to be stored here by 2025, and up to 8 million metric tons five years later. The latter corresponds to more than 10 percent of Denmark's current annual CO2 emissions.
According to the companies, the Greensand project is the first in the world in which CO2 is transported across borders and stored in a geological reservoir on the high seas for climate protection purposes. The technology behind this is called carbon capture and storage (CCS). Scientists agree that it will be necessary to use this technology in the future to limit global warming to a tolerable level. For in some industrial processes, at the latest, the fantasy of how complete decarbonization will succeed ceases to exist. The production of cement, lime, glass and ceramics generates emissions that cannot be prevented by any technical solution in sight. Some emissions from animal husbandry or waste incineration are also difficult or impossible to avoid. Accordingly, the researchers of the Intergovernmental Panel on Climate Change (IPCC) once again emphasized the role of CO2 storage technologies in their latest synthesis report.
The European Commission has recognized the importance of CCS; in the planned Net-Zero Industry Act, Brussels proposes to store 50 million metric tons of CO2 in retired oil and gas fields in the EU by 2030, and six times that amount 20 years later. The UK also has ambitious plans. Finance Minister Jeremy Hunt recently made a grandiose announcement of "20 billion pounds" (22.6 billion euros) for CCS projects. The fine print of his budget speech indicated that the money would be allocated over a period of twenty years. It is unclear how the funding will come about, how much will be taxpayer funds and how much will be a levy on energy customers. The Treasury says the projects are expected to create 50,000 jobs. Hunt is pressuring for work to begin quickly. He wants to see "shovel cuts next year," he said in his budget speech.
After all, two specific sites for large-scale CCS projects were already selected two years ago: the East Coast Cluster in the Teesside and Humber region of northeast England, to store millions of tons of CO2 under the North Sea, and the Hynet Cluster in the industrial region around Liverpool, Manchester and North Wales, to inject carbon dioxide into an empty gas field under the Irish Sea. The companies for both projects are already busily contracting with industrial customers whose emissions they will collect and inject. Hynet is also combining large-scale hydrogen production with capture of carbon dioxide from the gas-fired power plants being used. The Acorn cluster in Scotland, which has so far been traded as a "reserve," is also hoping to get the green light soon. The large-scale CCS projects each involve well-known energy and industrial groups, such as BP and Drax, Equinor from Norway and Eni from Italy.
Overall, the British government's target is to capture and store between 20 and 30 million metric tons of CO2 underground each year as early as 2030. This would correspond to the emissions of 10 to 15 million cars with internal combustion engines. After that, the quantities are to continue to rise steadily. The CCS plans are also significant in terms of the kingdom's total emissions. 30 million tons of storage would be about one-thirteenth of the country's current CO2 emissions.
And in Germany? Researchers assume that up to 73 million tons of CO2 per year could be captured and geologically injected in Germany by 2045 - the year in which Germany wants to cease net emissions. But where the CO2 is to be stored is still completely unclear. That's because CCS has been banned in Germany so far. Economics Minister Robert Habeck has announced that he will present a carbon management strategy by spring 2024 that will regulate not only capture and storage (CCS) but also the continued use of CO2 (CCU) as a raw material in industry.
This is arousing covetousness in industry. Environmental organizations fear that CCS will serve as an excuse for not driving forward the decarbonization of industry fast enough. For example, a paper by NABU, Germanwatch, WWF and E3G states that CCS should only be used "where there are no sufficient alternatives," and they point to the role of new processes, electrification, material efficiency and the expansion of the circular economy, among other things. In addition, CCS should "under no circumstances be used in the extraction or generation of fossil energy." Greenpeace accuses the German government of wanting to build a "gigantic CO2 disposal infrastructure." However, no one can guarantee that the CO2 will remain underground permanently, it says: "New systemic risks would arise, which once again will have to be borne by future generations as burdens for eternity."