Chaos at Frankfurt Airport after railroad construction work
Wed 15th Feb, 2023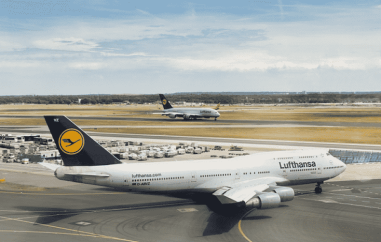 Passengers unable to check in and board the plane - a major IT outage largely paralyzed operations at Europe's largest airline, Deutsche Lufthansa, on Wednesday morning.
In the search for the cause, a connection with construction work on a railroad line in Frankfurt is assumed. As reported by Hessischer Rundfunk, an excavator had cut several Deutsche Telekom fiber optic cables at a construction site on Tuesday. This caused disruptions to Telekom services with a focus on the north of the city, but also elsewhere. The airport is located in the west of Frankfurt.
The IT outage at Lufthansa meant that airports no longer had the data they needed to check passengers in or let them board planes. The group confirmed the disruption. "For this reason, delays in check-in and also impacts on flight operations must be expected," Lufthansa said.
In order to limit the consequences for passengers, a crisis team met at Lufthansa headquarters on Wednesday. The Group said it was working intensively on a solution. Affected passengers should check online in advance about their flight. "If your flight is affected, we advise against traveling to the airport," Lufthansa said.
Passengers on domestic routes were advised to switch to trains, those affected reported on social networks such as Twitter. There, however, they would come in addition to existing passengers. Deutsche Bahn said it "generally has sufficient capacity to transport the affected passengers." Nevertheless, the company recommended reserving a seat in the short term in any case and looking for less booked trains in the online capacity utilization display.
For passengers, the IT outage at Lufthansa means that they will not receive a boarding pass and will not be able to board the plane. The necessary passenger lists cannot be created. Affected travelers shared pictures on online networks of passengers waiting in crowds in terminals.
At airports like Frankfurt, the aprons became more crowded as planes failed to take off, leaving no space for arriving flights. As a precaution, German air traffic control closed Frankfurt Airport to landings. This is to prevent the hub from filling up, according to an air traffic control spokesman.
Planes will be diverted to other airports such as Nuremberg, Cologne or Düsseldorf. For the second Lufthansa hub Munich, there was initially no closure of air traffic control. However, if problems persist for a longer period of time, this is an option.


Image by Mathew Browne