Brainlab and AO Collaborate on Future of Medical Training
Thu 6th Jul, 2023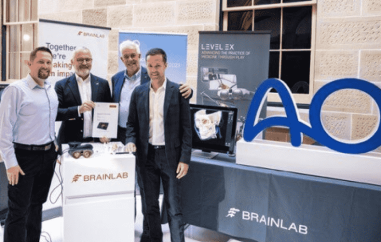 During the annual AO Trustees Meeting, which was held this year in Sydney, Australia, the digital medical technology company Brainlab announced today an expanded collaboration outlining initiatives in their ongoing work with the AO Foundation. The collaboration demonstrates both parties' commitment to advancing medical education and delivers on a shared belief that immersive education is the catalyst for change in surgical practice and improved patient outcomes.
Increased knowledge acquisition, improved decision-making, and improved skill coordination will result from the integration of Brainlab technology into AO courses, all in a secure and entertaining environment. For craniomaxillofacial (CMF), spine, and trauma education, the AO will make use of Brainlab technology, including the Mixed Reality Viewer. By offering 3D visualization of medical images and enabling interaction between 2D images and corresponding 3D patient models, this platform gives doctors an immersive experience. 
This advanced training program will be available at AO Davos Courses and AO regional events and will include software for pre-operative planning and case review called Brainlab Spine and CMF Elements.
Utilizing video game technology, AO, Brainlab, and its subsidiary, Level Ex, are working to hasten the adoption of new skills and methods. The parties will convert AO clinical guidelines into game mechanics that include precise, physics-based simulations using Level Ex technology. Additionally, they will work together on a new spine surgery video game with a curriculum specifically designed to impart the expert abilities required for successful spine procedures through play.
On an AO-recommended surgical navigation workflow for spinal procedures, Brainlab and AO are committed to working together. To improve patient outcomes, training will be geared toward achieving the highest level of accuracy at each stage of the spinal procedure. The answer depends on high imaging quality, exact planning aided by AI-driven anatomical mapping, and patient registration. Additionally, the workflow will put an emphasis on navigated instrumentation that aims to lessen pressure on the spine in order to further increase accuracy and address the unique challenges of the cervical spine. The AO intends to integrate this workflow and related technology into a number of AO Technical Commission and AO Education Institute activities.
According to Stefan Vilsmeier, the founder and CEO of Brainlab, "Brainlab and the AO have collaborated for decades and are mutually committed to accelerating the adoption of new technology and clinical workflows to improve patient outcomes globally.". "We are eager to deepen our partnership and have a common goal to establish an Extended Reality Center for Immersive Surgical Education. ".
Since the 1990s, AO and Brainlab have collaborated on a number of projects with a focus on computer guided applications, according to Prof. President of the AO, Dr. Florian Gebhard. Teaching has been, is, and will continue to be the primary focus of AO; today, we are excited to begin integrating 'extended reality' into our teaching offerings alongside our reliable partner, Brainlab. The use of this technology is expected to have a significant impact on the learning experience for our students. As part of our mission to enhance patient care outcomes, the relevant Technical Commission Expert Group will assess possibilities for clinical extended reality applications alongside Brainlab. ".
 
About Brainlab
Munich-based Brainlab employs around 2,200 people with expertise across the entire healthcare value chain in 25 locations worldwide. Brainlab digitizes medical workflows, from diagnosis to therapy, to offer clinicians and patients better treatment possibilities. Innovative digital ecosystem forms the basis for modern healthcare technology in 6,300 hospitals in 120 countries and Brainlab has been at the forefront of health technology for over 30 years,
 
Original article from Brainlab here.
Photo copyright Brainlab