Airbus doubles production in China
Mon 10th Apr, 2023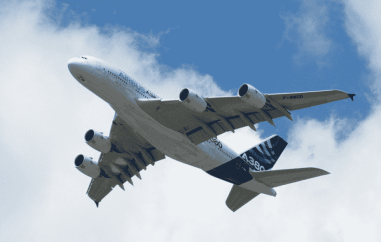 When the Chinese Aircraft Procurement Authority ordered around 300 new aircraft from Airbus for the state-owned airlines last year, at first glance this was not linked to any quid pro quo, as is usual in such cases. China simply seemed to need to buy a lot of new Airbus jets in order to be able to demonstrate the growth it was aiming for in air traffic.
Since French President Emmanuel Macron showed up in Beijing last week with a large business delegation, people have been proven wrong. The delegation included Airbus CEO Guillaume Faury, and he signed a new contract with China's Aviation Industry Corporation of China (AVIC) and the Tianjin City Investment Authority in the presence of the head of state. The agreement provides for the construction of a further final assembly line for short- and medium-haul A320neo aircraft at the Airbus plant in Tianjin by 2025. Up to twelve instead of six aircraft per month are to be delivered from there in the future, primarily to Chinese airlines.
However, it is a good thing for Airbus that China usually wants industrial investments in return for large orders. After all, there is nothing Airbus can use better at the moment than more production capacity, and if it also means gaining a strategic advantage over rival Boeing in one of its biggest markets - all the better. Concerns that China is learning too much too fast in aircraft manufacturing and is ramping up its own industry have been around since Airbus set up the factory in Tianjin in 2008, but have now not prevented the expansion.
Airbus plans to ramp up production of the A320neo series from an average of 43 a month to 75 by 2026, because demand for the jets is currently enormous. Actually, the target was to be reached as early as 2025. But Faury and his team didn't count on their own suppliers. At present, they are not even able to supply the currently planned production, let alone higher rates. The engine manufacturers in particular are still in a state of chaos, with parts missing from production and spare parts for repairs. Airbus hopes that things will not improve until 2024.
But the company's own capacities also need to be expanded. The plant in Mobile, USA, is getting a second final assembly line that will produce the first aircraft in 2024, with Tianjin following in 2025. At the main Toulouse plant, the two old production lines are being shut down and replaced by two new ones - since the end of the giant jet, the A380 hangar on the other side of the airport has enough space to build the bestseller, for which Airbus currently has 6,000 more orders - enough for more than ten years of production. Hamburg retains four assembly lines and thus remains the largest single site for the aircraft in the series, for which the larger A321neo is particularly in demand. However, based on the six additional lines, the majority of production will no longer take place in Hamburg in the future.
Which fits in with Airbus' strategic production planning. The aircraft at the Mobile, Alabama, plant will be delivered primarily to North American airlines, while those from Tianjin will be delivered to Chinese airlines. Airbus believes China will take delivery of one in five Airbus aircraft in the future. At present, however, only eight percent of production is planned for airlines in the country, so more orders will have to follow. It is good news for Airbus that Boeing cannot expect similar business. Although Chinese airlines have currently ordered more than 400 Boeing jets on paper, it is doubtful whether these will ever be delivered, given the political tensions between the U.S. and China. And Boeing has so far been much more cautious than Airbus when it comes to industrial cooperation. This is unlikely to change any time soon.