A play on perspectives rejuvenates the harp
Thu 5th May, 2022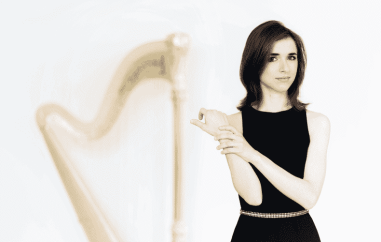 There can be few instruments as universally identifable as the harp, either by sight or more pertinently, sound. Indeed, it has a special place in my country's history, where since the 13th century, it has been considered the heraldic symbol of Ireland. It, perhaps more than most other extant instruments, symbolises a bygone era, one of bards and royalty, fairytales and fantasy. In many respects, the harp delicately sanitises and romantises our imagination of what was essentially a past whose minutae detail are perhaps best left there. It soothes, in a way few instruments do. In fact, one could nearly define the harp by this measure, its universal ability to suggest serenity and beauty; a comforting illusion we actively seek it out for.
So it was, that when I was presented with French harpist Ms Anaëlle Tourret's debut album for review, I jumped at the opportunity. After settling aside one evening to enjoy her work, I was, within minutes, aware that my perception of the harp was being challenged, which was not what I was expecting.
I was unsure how I felt after listening to the recording for the first time. For hers was not an album of fairytale princesses, sweeping one blisfully away to another age, but very much a robust rejection of the harp as a meek and mild predicable creature whose primary goal is to supplicate and soothe. Here it was now a reimagined beast, of energy and perhaps dare I say it, anger. The recording was scolding me for my limited infantile preconceptions, offering me an alternative, yet also a surprisingly rewarding perspective. The hitherto unrecognised versatility of this ancient instrument was unexpectedly laid bare.
I was starting to pay attention, but nevertheless surprised and a little confused. Again, this was not what I had come to expect. Confused as to why a harpist had chosen these compositions, and what it meant, I sought out the source of the confusion. Luckily, I was very graciously granted an interview, where Ms Tourret kindly walked me through her motivations.
"Perspectives", being the name of her solo album, was instantly recognisable as a description of the goal of her project. She took contemporary 20th century compositions written for the harp, and applied her equisite artistic mastery to force us to relook at our own misconceptions of this time-honoured instrument. That confusion I experienced, so I was to learn, was intentional, which offered me much solace as to why I had felt this musical cognitive dissonance.
I was intrigued with her choice of recordings, each of which rather effortlessly forced me to pay attention to what she was communicating. No one piece was chosen whimsically, with each producing a deliberate varied angle, a persective, on the harp, the harpist and our observational place in her performance.
When speaking to Ms Tourret (who works and resides in Germany) via video conference, I was accutely aware that I was speaking to a world-class professional at the top of her game. Harp soloist for the famous Hamburg NDR Elbphilharmonie Orchestra and the winner of various awards during a sharp meteroic rise in her career, her credentials are truly impressive. As is her talent. Yet her friendly and approachable demeanour proved disarmng and unexpected, much like her album. In fact, I notoced more than one similarity between the artist and her work.
The first thing which struck me was her mental acuity. She possessed a level of intellectual alertness which hinted at what may have pushed her quest to publish the ground-breaking Perspectives. This added an unexpected dimension to my retrospective appreciation of the recording, a layer of philosophical complexity driving her ambition. Despite the obvious passion for her art, it was her composure and warmth, which truly spoke volumes to me. She was clearly a lady who was ambitious and in control, and the album I think reflected who she was. Both had an instant arresting persona, which gently won your interest and respect, despite neither requesting it.
As I spoke to her, I came to accept that my view of the harp was exactly, and deliberatly, in the firing line of her album. I was her target market. She understood the limit of public perception of the instrument and had determined to offer a compelling exposé to remedy such an artistic travesty. That perceived fairytale persona belied the true power and complexity of this critical component of a modern orchestra. Having started to learn the harp after hearing a recital aged just 4, she more than most knew what her instrument was capable of, and it was her mission to inform the rest of us.
So it is with Perspectives, that Ms.Tourret sets out to widen our own. By enriching, and arguably expanding our understanding and appreciation of one of the most beautiful instruments we possess, she introduces us to a world of exciting contemporary pieces by the composers Heinz Holliger (who collaborated with her for this album), Benjamin Britten, Andre Caplet and Paul Hindemith. Bringing her technical excellence and artistic brilliance to bear on these compositions, she extends their emotional reach, and instead of soothing and relaxing, she excites and challenges. Not typically what one comes to expect of such an apparently timid done-and-dusted instrument.
By skillfully manipulating our perspectives, with much the same level of artistry as she tranposes to her music, Ms.Tourret, raises understanding and appreciation of the Harp's versatility. Additionally, one can't help but feel equally appreciative of the supremely talented virtuoso, for using her ambition and gift to instill a fresh inquisitiveness into an ancient tool.
To listen to her new album, visit Perspectives, by Anaëlle Tourret, and to learn more about Anaëlle Tourret and her work, please visit https://www.anaelletourret.com/


Image copyright Anaelle Tourret (https://www.anaelletourret.com/)