Tue 24th Jan, 2023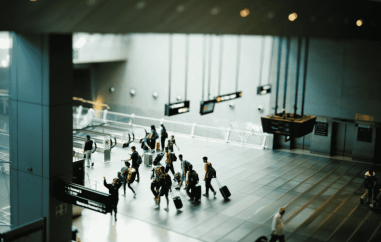 Due to a warning strike at BER, no passenger planes will take off from the capital's airport on Wednesday (January 25). According to Berlin Brandenburg Airport, around 300 takeoffs and landings will be cancelled - affecting almost 35,000 passengers.
The airport company asks affected passengers to contact their airline for information on rebooking and alternative travel options. Paul Degott also recommends that. "It's cheaper if they leave it up to the airline to take care of timely replacement transportation," he says.
For example, with the airline's help, it may be possible to take a train to another airport and fly from there, he says. For domestic flights, airlines often offer their customers rail tickets to get to their destination.
Alternatively, in the event of a flight cancellation, travelers also have the right to have their money refunded. In this case, however, they have to find their own way to get to their destination. Often, they end up paying for it and also have to organize the trip.
"What matters is who is on strike," says Degott. According to the Verdi trade union, ground handling services, the airport company and aviation security are called to the warning strike. The question, Degott says, is whether the services can be attributed to the airline's flight operations. "If they were, then compensation claims could be considered."
The amount of possible compensation for short-term cancellations is set by the EU Air Passenger Rights Regulation. They range from 250 to 600 euros - depending on the distance to the destination and when passengers were informed of the flight cancellation.
And how does it look in this case? In the case of ground staff, who are responsible for checking in passengers, among other things, claims can certainly be derived, says Degott.
"The airlines will stonewall and say they have nothing to do with them - but that's not true, because they need them for handling." Even if the ground staff comes from another service provider, they are acting on behalf of the airline and can certainly be considered airline staff, is his assessment.
Warning strikes by security personnel and the airport company, who are also to stop work at BER, are not part of the airline's area of risk.
Conclusion: There may be claims for compensation payments, but the case here is not absolutely clear.
"In the case of a package tour, the organizer is under obligation," says Degott. If, for example, you don't fly on vacation until a day later because of the warning strike, you can reduce the travel price proportionately. That means you then pay less for one day.